The new Tx300P-1800B with textile transportation belt is ideal for samples, short production runs, custom orders, even on thick, sheer and elastic textiles
Amsterdam, 12 October 2016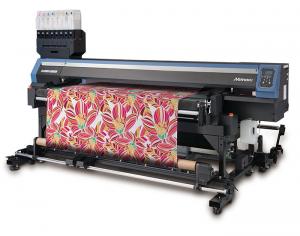 Mimaki today announced a brand-new textile printer, the Mimaki Tx300P-1800B (Belt). This 1.8-meter-wide printer is specifically designed to address the need in the textiles and apparel industries for cost-effective short run printing of textiles for products or samples. Its unique design makes it suitable for printing on a wide variety of fabrics, including bulky textured materials as well as sheer fabric and stretchy materials such as knits. It also eliminates the need of steaming or washing when printing with the Mimaki TP400 textile pigment inks, thus reducing the space required for on-demand textile printing.
"As consumers increasingly turn to the Internet for their shopping needs, we believe they will want to regularly create custom designs and not rely solely on standard designs available in retail outlets," says Mike Horsten, General Manager Marketing of Mimaki EMEA. "In addition to the need to cost-effectively produce samples and small runs, enterprising garment makers will be looking for solutions that will help them meet this emerging consumer demand. And they will not want their fabric types to be as limited as they are with many digital textile printing solutions today. That's exactly what the Mimaki Tx300P-1800B belt-type printer was designed to do. Furthermore, while offering a complete set of textile inks, the TP400 textile pigment ink allows customers to produce small runs in-house without the need of steaming or washing."
Five ink types increase flexibility
In order to accommodate this wide range of requirements, Mimaki will be offering five different ink types with the Tx300P-1800B. These include:
Sb420 Sublimation Dye Ink: These inks are designed to work perfectly with polyester-based textiles, either direct to fabric or to a sublimation paper for transfer to the fabric by a heat press. They feature a deep and powerful black, durability and a broad colour gamut.
Dd400 Dispersion Dye Ink: This ink delivers high lightfastness and outstanding build-up on polyester and micro-polyester for sportswear, curtains, outdoor textiles, home textiles and the auto industry.
TP400 Textile Pigment Ink: This is probably the most flexible of the Mimaki textile inks. It can print on a wide variety of textile types as shown in the table below. There is no need for steaming nor washing, thus reducing time, cost and potential water pollution. However, a binder or primer is recommended to achieve the quality that both manufacturers and consumers demand.
Rc400 Reactive Dye Ink: These inks are suitable for printing on more natural fibres, like cotton, silk and wool. The Tx300P-1800B's belt media transport system flattens the textile and makes it possible to print easily on textiles that stretch. It meets the high automotive lightfastness standards but does require pre-/post-treatment of the fabrics to prevent fading and bleeding of colour. The results are sharp images and rich, deep colours.
Ac400 Acid Dye Ink: These inks are similar to Reactive Dye Inks in that pre-/post-treatment of the fabric is needed. These inks produce bright, deep colours in the complete gamut of shades required by the fashion and apparel industry as well as good light- and wet-fastness.
This table reflects fabrics appropriate for each ink type.
| | | | | | |
| --- | --- | --- | --- | --- | --- |
| | Polyester | Cotton | Silk | Viscose / Rayon | Wool |
| Sublimation Dye | X | | | | |
| Reactive Dye | | X | X | X | X |
| Acid Dye | | | X | X | X |
| Dispersion Dye | X | | | X | |
| Textile Pigment | X | X | X | X | X |

Next-generation digital printing: the details
Supporting the next-generation digital printing of textiles and apparel, the Mimaki Tx300P-1800B:
Offers entry-level printing in the robust Mimaki portfolio of textile printers.
Prints at speeds of up to 50 square meters per hour, and can achieve print resolutions up to 1440 dpi.
Enables high quality printing on thick, woven or raised fibre textiles, thanks to the high head gap options that prevent head strikes.
Is equipped with a "crumple-free roller" and "paste roller" on the belt conveyance system which reduces crumpled and bending of textiles, resulting in beautiful, stable results.
Uses a Nozzle Control Unit to automatically detect and recover clogged nozzles for uninterrupted high quality printing and reduced waste.
Uses two-litre ink packs to support continuous printing with reduced operating costs.
Uses a waveform control technique to jet each ink according to its own specific gravity and viscosity for precise placement of ink droplets onto the fabric.
"We believe this new printer is poised to bring significant transformation to the textile and apparel industry with its speed, quality and flexibility at an affordable price point," Horsten added. "We are looking forward to showing the first machines at Viscom Italia in the next few days on the Bompan booth."

Specifications
 
Tx300P-1800B
Printhead
On-demand piezo printhead
(4 in-line print heads)
Print resolution
360 dpi, 540 dpi, 720 dpi, 1080 dpi, 1440 dpi
Maximum printable width
1,880 mm (6.17 feet)
Maximum media width
1,900 mm (6.23 feet)
Ink
Type/ Colour*
Sb420 sublimation dye ink (Bl, M, Y, K, LBl, Lm)
Dd400 Dispersion dye ink (C, M, Y, K, R, Gr, Violet, Pink)
TP400 Textile pigment ink (C, M, Y, K)*1
Rc400 Reactive dye ink (C, M, Y, K, Bl, R, Or, Lk)
Ac400 Acid dye ink (C, M, Y, K, Bl, R, Or, Lk)*2
Ink Package Size
2L ink pack
Media thickness
1.0 mm (0.04 in) or less
Rolled media weight
40 kg (88 lb) or less
Rolled media diameter
250 mm (9.8 in) or less
Certifications
VCCI class A / FCC class A / ETL UL 60950-1
CE Marking (EMC, Low voltage, Machinery directive)
CB, RoHS, REACH and RCM
Interface
USB 2.0 Hi-speed/Ethernet 1000BASE-T
Ethernet 10BASE-T/100BASE-TX/1000BASE-T
Power supply
Single phase AC100-120V/AC200-240V ±10%
50/60 Hz ± 1Hz
Power consumption
(AC100V) 1.44kW/ (AC200V) 1.92kW
Operational environment
Temperature: 20-30 °C (68-86 °F)
Humidity: 35–65 % Rh (Non-condensing)
Dimensions (W×D×H)
3,197 mm × 1,798 mm × 1,845 mm (125 in × 70 in × 72 in)
Weight
627 kg (1,382.3 lb)
*1 Four spot colour inks will be available in the future
*2 AC400 will be available in the future
*Ink type must be specified based on intended use. Ink type cannot be changed after installation.