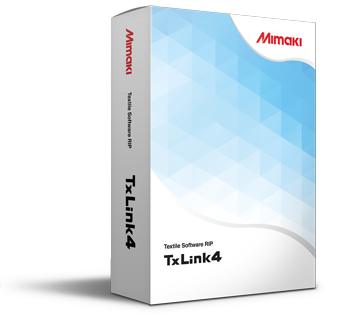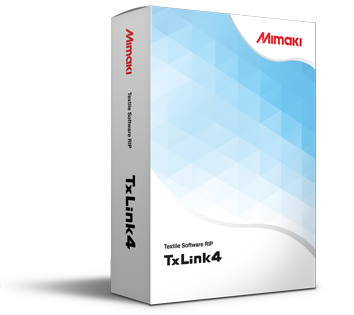 Sophisticated RIP software for textile and apparel
Textile software RIP "TxLink3" has become further sophisticated and user-friendly in TxLink4
| | |
| --- | --- |
| Parallel RIP and printer pool functions make production more efficient | 16-bit rendering realises beautiful gradation expression |
| Assignment of feature colour to spot channel | |
| Variable print function tailored to applications for apparel | |
Features – TxLink4
New features
Simultaneous RIP
The RIP process for multiple pieces of print data can be performed simultaneously*1

Using the Printers Pool function, print jobs can be assigned to available printers automatically*2, allowing efficient production when multiple printers are connected*3






*1: A total of up to eight RIP Servers can be started simultaneously
*2: Identical printers / identical ink-set printers
*3: Additional printer licenses corresponding to the number of connected printers are required

Printer pools
By registering multiple printers of the same printer type and the same ink set, jobs can be automatically distributed to the various printers.
When the Print Environment is used to create a job, the job can be printed on any of the printers*1 in the pool

Print jobs are pooled and automatically assigned to multiple printers*2






*1: Identical printers / identical ink-set printers
*2: Additional printer licenses corresponding to the number of connected printers are required

Variable data print
Variable data such as uniform numbers and player names can be directly imported from CSV files to create print jobs

Text can also be processed using methods such as text outline fills and arched text layout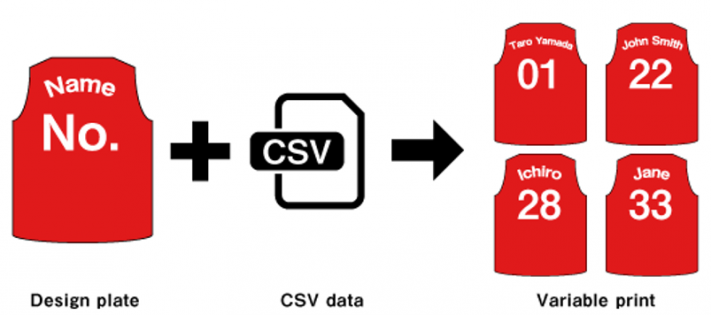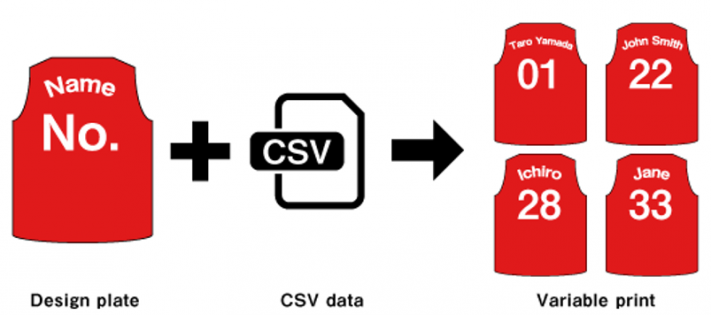 16-Bit rendering
Rendering is upgraded from 8-bit to 16-bit and enables more beautiful gradation expression.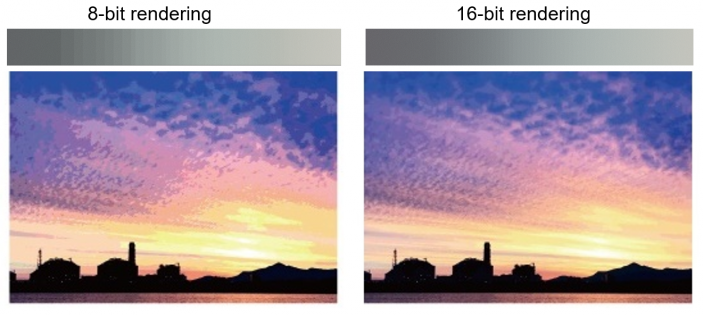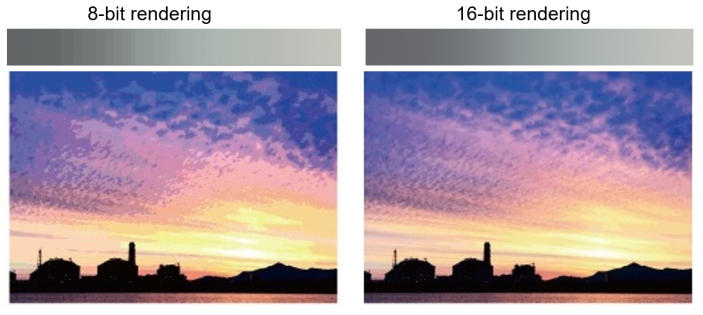 Image mask property
Mask Image allows the user to apply an image as a mask on top of an image within a job

TIFF, JPG, BMP, PS, EPS and PDF file formats are all suitable and supported

The Image Mask parameters can be saved as an Image Preset and may be used later to expedite the application of a specific mask to an image

Rotation, inversion, aspect-ratio change of masked images and continuous masking to long-sized images are also possible

---
Improved features
PDF support
The Aurelon PDF engine has been implemented in TxLink4 for showing correct previews of PDF colours dynamically and snapshot previews of multipage PDFs faster than earlier versions

The overall performance, colour management and PDF transparency support have been improved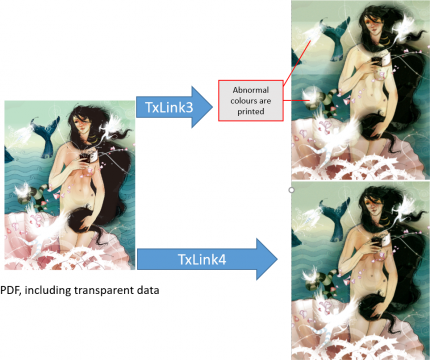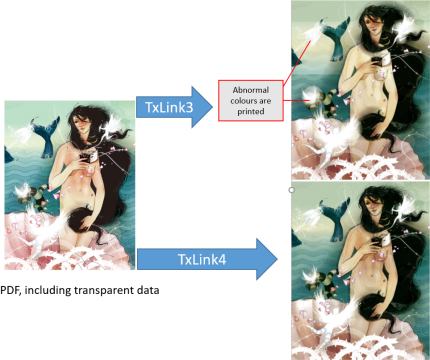 Nesting function for simplified pagination
The intuitive and powerful nesting option improves the arrangement of multiple images per job by rearranging the images based on their actual shape.
Easy Cut (Guillotine Cut) arranges images in a way that a horizontal cut line is provided, ensuring a smooth finish

Minimum Waste (Space Optimized) arranges the images in the most space saving way to minimise the waste of paper






Smart fill
Apart from duplicating images to fit a fixed size grid, a new mode called Smart Fill may be used when the grid option is selected

Smart Fill will automatically fill up a job with the selected image, either with or without image rotation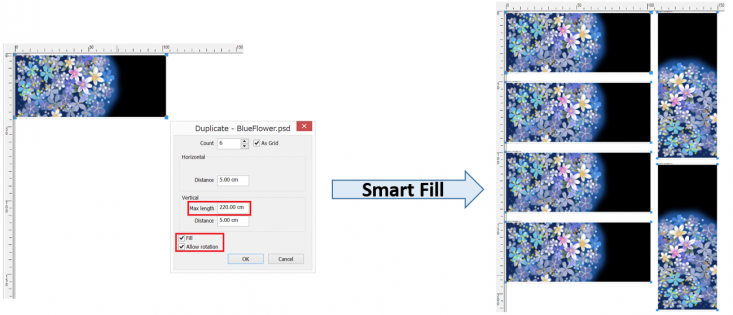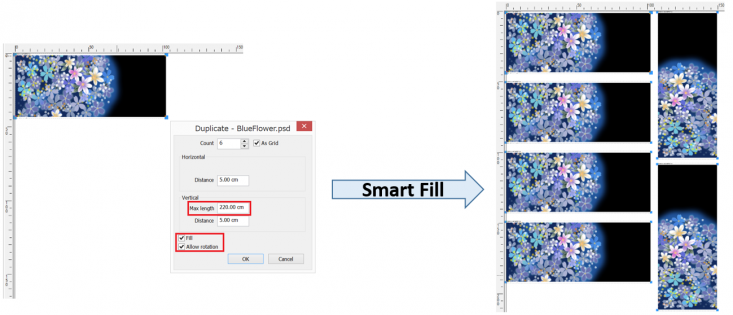 Image auto alignment
As images are moved within a job layout they may be easily and quickly aligned either horizontally or vertically to other images.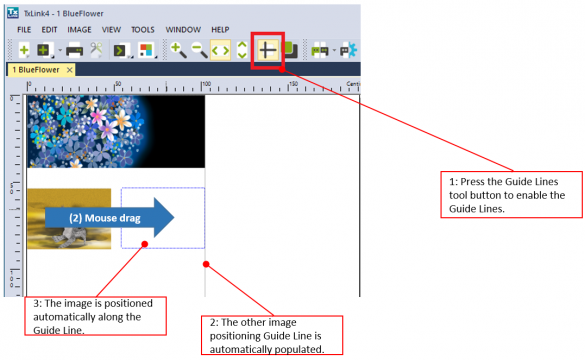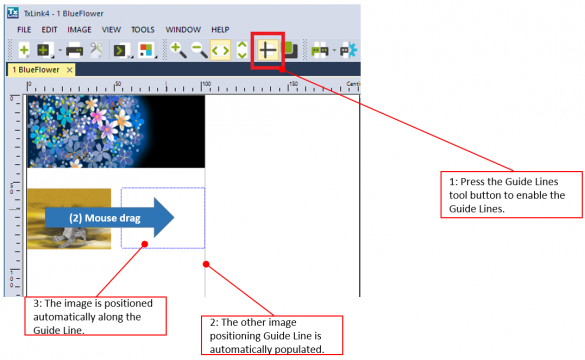 Spot channel colour replacement
It is possible to assign random colours to the Spot Channel and view in the TxLink4 preview.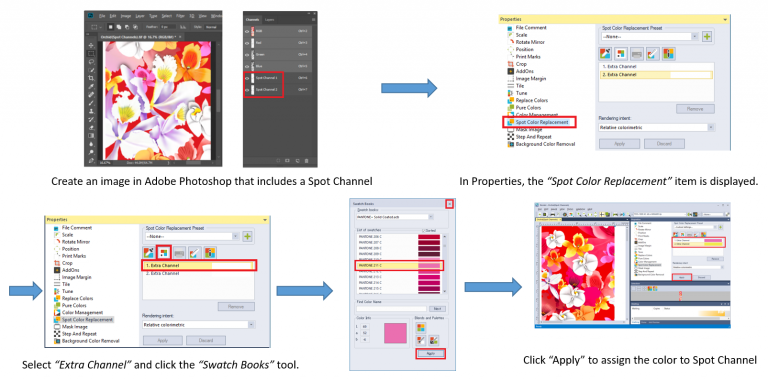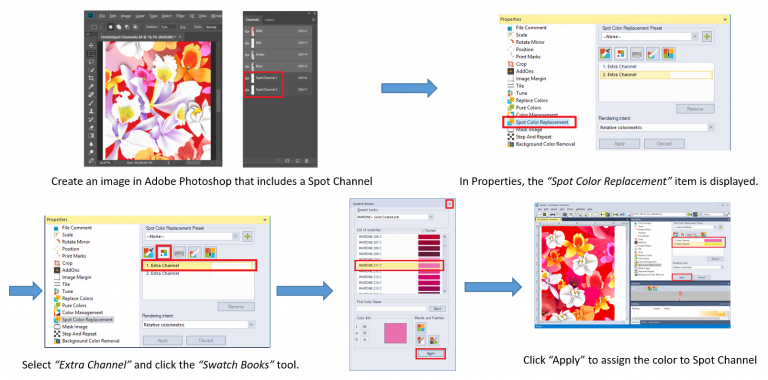 Customer information
A new job property "Customer Info" has been added to the properties panel allowing the user to enter and save customer related information to a job

Frequently used customer information can be saved as a preset and used at a later time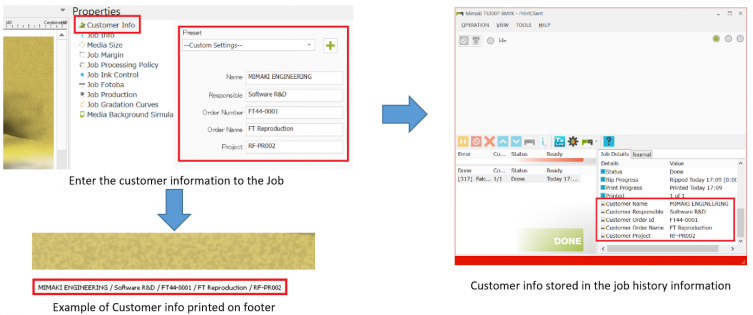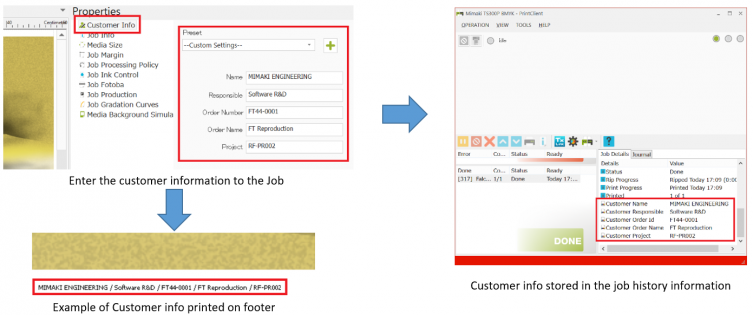 New image Add-Ons
Barcode Add-On: The barcode Add-On enables the user to define and position different barcode types to an image. QRCode, Data Matrix, PDF417, and Code 39 barcode types are available.
Multiple Image Add-Ons per Image: It is now possible to utilize multiple Image Property "Add-Ons" on a single image. For example, multiple company logos "Add-Ons" may be applied to the same image.
Drill holes Add-On: Mark hole for the eyelet can be added near the edge of the image at the corners.
Ruler Add-Ons: Place a horizontal ruler above or below the image and a vertical ruler at the right or left sides of the image respectively.


---
Continued features
In addition to the new and improved features, the TxLink4 continues on the following features of the TxLink3:
Hot folders: Hot Folders are a quick and easy way to automate the printing process by placing the image data into a shared folder, allowing users to automate the printing process without interruption.
Colour replacement: Reproduce specific colours and create several colourways with one image.
Colour matching: Colour tuning using saturation, brightness, contrast, balance and tone curve functions.
Colour combine: Layered data by colour, normally used for screen printing, can be used for digital print.
Pure colour printing: Print primary colour, secondary colour and grey pure colour.
Position template: Automatic placement of images when using a specific form (eg. t-shirt).
Edit screen separation: Customise the layout of the screen, dividing it into 2 or 4 parts for effective editing.
Manage costs with Job Ticket: Provides information on the consumed ink amount, media and print time.
ICC profile creation: Using ColorGPS, create a user profile by printing and calibrating a colour chart. Include detailed settings such as ink limit and tone curve.
Wide gamut printing by multicolour profile: Often used for textile design, it covers a wide gamut of RGB image colour compared to a normal CMYK profile, providing bright and vivid expression.
Colour management of printer: ColorQPC supports colour consistency of printer over time.
Step & repeat: Create seamless repeat patterns and flexible paneling functions, including horizontal and vertical shift, rotation, mirror and overlapping.