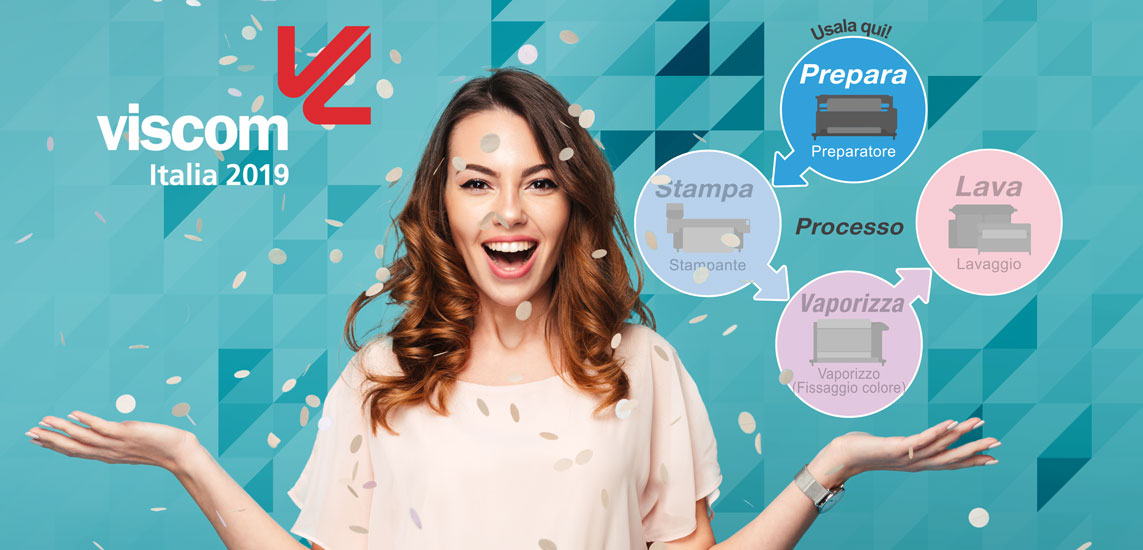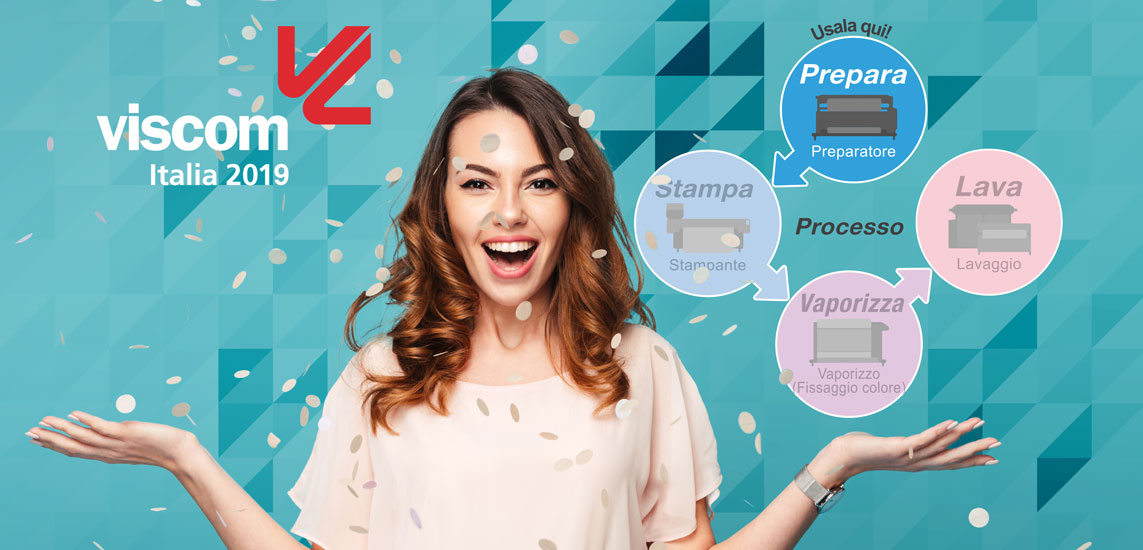 Mimaki Bompan Textile invites you to participate in Viscom 2019 from 10th to 12th of October at Fiera Milano, Hall 8, Stand G20.
Total Solution Provider
This year Mimaki's textile division in Italy wants to present itself as a Total Solution Provider; as a single supplier for the entire printing process, thanks to the launch of the TR series. The key word of the exhibition will be "Micro-Factory" – a word that indicates a compact factory in which the entire process of the product is carried out within the company.
The TR series or pre- and post-treatment series was born after the acquisition by Mimaki of Australian company, Rimslow, in 2017 and was launched for the first time in Italy in September 2019. It is a series composed of a coating machine (TR300-1850C), a steamer (TR300-1850S) and a washing machine (TR600-1850W). With the purchase of these machines, the customer can manage internally the entire process of direct printing roll-to-roll as follows:
Fabric preparation using the TR300-1850C, selecting the most suitable treatment liquid for the ink you want to use.
Direct-to-fabric printing using the TX300P-1800B, which can print with direct sublimation, acid, reactive, disperse and pigment inks.
Fabric steaming via the TR300-1850S, to fix the color.
Fabric washing with TR600-1850W, to eliminate ink and pre-treatment liquid residues.
The printing process and conditions vary depending on the type of fabric and ink. Our experts are at your disposal to explain everything in detail. In the meantime, you can consult the dedicated TR series product page.
TS55-1800
Also linked to the concept of "Micro-Factory" is the sublimation transfer printer, TS55-1800, which adapts to customer needs thanks to its three optional units: ink supply unit in 10kg tanks, external heater and Mini Jumbo Roll.
At Viscom, you can see these solutions live. In particular you will see:
TS55-1800 full optional
TX300P-1800B with pigment inks
TR300-1850C for fabric coating
Would you like to set up a meeting with our team? Write to info@mimakibompan.com!
In short
What: Viscom 2019
Where: Fiera Milano, Hall 8, Stand G20
When: 10-12 October, 10:00-18:00
Machines: TS55-1800, TX300P-1800B, TR300-1850C