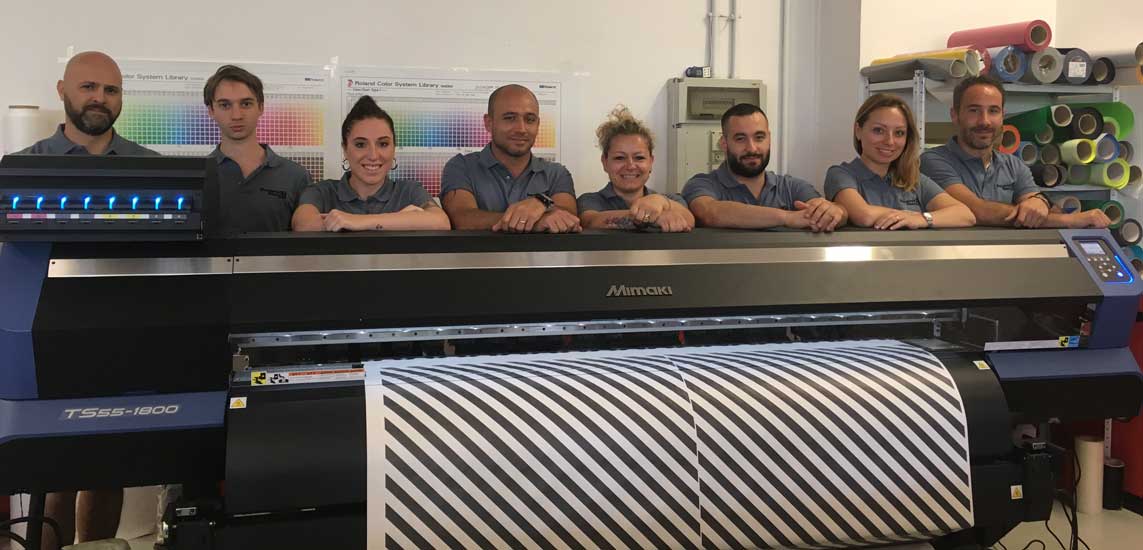 From the Republic of San Marino, the experience of Personal World 38 with sublimation printing. A report on the Mimaki Bompan Textile transfer printer, between production capacity and quality, costs and reliability (even in the absence of an operator), with an eye to ecological sustainability.
The field of textile sublimation printing seems to be promising, where printing is first carried out on paper by plotters that enable fully customizable designs. The paper is then sublimated on polyester media, through a hot press (manual or calender). From sportswear to furniture, satisfying and versatile user experiences are guaranteed.
"High resolution of the images, optimization of production times, reliability of the processes even without the operator. These are the three strong points that make us satisfied with Mimaki Bompan Textile". This is how Christian Giardi, owner of Personal World 38 Srl – a clothing and gadget company based in San Marino – sums up the choice of the Mimaki TS55-1800 sublimation transfer printer. This is a flexible technology for small runs as well as for large productions, placed on the market of mid-range textile machinery by Mimaki Bompan Textile: a company founded in 2017 in Tradate, in the province of Varese, thanks to the joint venture between Mimaki and Bompan Srl.
THE MEETING OF NEEDS AND SOLUTIONS
Christian Giardi is just 40 years old and has a degree in biomedical engineering. The building where we meet him is a well organized space in the industrial area of Galazzano, just entered the Republic of San Marino.
"I called my business this way for a reason: Personal World because I immediately dedicated myself to the world of customization, 38 because it's my lucky number," he explains smiling. "We produce personalized clothing and gadgets, and we do sublimation, digital and screen printing; we are also embroiderer. We work B2B, but also B2C, directly with end users. I opened Personal World 38 in 2003 with my best friend, who is still with me, but then the business was based in a shopping mall and was essentially an embroidery mill. Then came the impulse of digital printing, while about four years ago we entered the world of sublimation printing and this has allowed us to grow a lot. The main intention was to make flags and posters in polyester, then I found a niche market: that of multifunction tubular bands, which can be branded and used as neck warmers, sweat wipers, headband, mouth mask or in many other ways, both in summer and winter, especially in sports and outdoor activities. So I started out on e-commerce and now I manage four online sales portals:bandanepersonalizzate.com, t-shirtpersonalizzate.it, mousepadpersonalizzati.com e stampalatazza.com».
THE BEGINNING OF THE COLLABORATION WITH MIMAKI
"For the heat transfer," explains Giardi, "I use a Transmatic press and calender and sublimation plotter from a competitor of Mimaki. After a couple of years of high volume work, I had to decide whether to double the number of that machines or switch to Mimaki. I met Mimaki at trade fairs and had heard about it well, so when the agent contacted me, I went to visit a company in Tuscany: I saw it working and I was convinced that it was right for us. It was a really good choice. Mimaki TS55-1800 is a very fast, reliable and flexible machine, new on the market. During the installation, at the beginning of the year, the Mimaki technicians followed us on site to set up the machine and profile the colors according to my needs, showing themselves to be very polite and also available in the following telephone assistance. When we tested it for the first time in a massive band production we promised the customer two deliveries of 5,000 pieces each, but we were able to deliver all 10,000 pieces together, saving time and costs and making a good impression with the customer. The machine worked almost 24 hours a day for a week without interruption. Without a doubt, our core business has found the TS55-1800 to be a great ally."
SPACE TO THE USER EXPERIENCE
"With sublimation printing, in addition to bandanas – continues Christian Giardi – we also produce mouse-pads and personalized cups: small surfaces that require a great definition of image and a sharp and precise resolution. Most t-shirts are digitally printed, except for a few sports t-shirts that we make in sublimation. The bands are born as white tubular bands, first printed on one side and then on the other, and the double pass is a real plus of this machine. Mimaki allows a perfect calibration of the amount of ink, which for us is essential; this allows us not to ruin the product with the ghost effect that you would have with an excessive amount of color, which would penetrate on the other side. First of all, using water-based inks, our product has the advantage of being ecological: a fundamental aspect in the case of fabrics in contact with the skin, in terms of safety and health. Moreover, the price of the inks that Mimaki guarantees us is really competitive. This is also thanks to an optional installed on the printer, which allows you to use 8 tanks of 10 kilos in double four-color instead of 2-liter ink packs, with cost savings of 30%. Among the optionals we have also chosen an additional heater to speed up the drying of the product, which is already fast. Now we are thinking about the implementation of the Mini Jumbo Roll, to print continuously even 2,500 linear meters of paper, exploiting more and more the night hours. A prerogative for which we very much appreciate Mimaki products is in fact the complete reliability of the printing process even in the absence of an operator, and the ability to run the machine almost throughout the 24 hours without jamming the work, with the peace of mind of a perfectly printed roll in the morning. The new TxLink4 software, specifically designed for the Textile sector, allows the launch of several RIPs and the linking of several productions, thus meeting the most varied production requirements, from long runs to small samples. Eight people work here and half of us are able to use this printer with ease. Mimaki TS55-1800 has a user-friendly and intuitive system, with many options that can be activated or not: for example, for the end of work report, with production data that orient the company programming in view of Industry 4.0. To avoid the banding effect you can also activate MAPS (Mimaki Advanced Pass System, algorithm that helps the homogeneity of color between the passes), but we use it more frequently in more precise jobs such as with cups. Then there are the functions of control and rebalancing of the color nozzles, as well as programmable maintenance checks, made easier by a convenient infographic display."
GROWING BUSINESS OPPORTUNITIES
"Sublimation textile printing evolves at great speed," concluded the entrepreneur. "The most eco-friendly aspect of this process, which uses water-based inks that are non-toxic, non-polluting and easy for companies to dispose of, should not be underestimated. Just think of the technical sportswear, where sublimation has the advantage of not blocking the pores of the fabric, leaving them free to breathe. As well as polyester towels, to which recent technologies have also ensured a pleasant "cotton touch" effect, softness to the touch and greater absorbency. The same applies to large soft signage, at the edges of football pitches or at trade fairs, where heavy PVC banners were first used and now they are printed on fabrics, which are lighter and do not fade in the sun. If we think that Mimaki Bompan Textile also has fluo colors (soon available also for the TS55-1800), we can be sure that we beat our competitors."
See Mimaki's total textile solution LIVE at FESPA 2020, taking place from 24 – 27 March in Madrid, Spain. Register to get your free access to the show now: https://loom.ly/T4YybuE
Written by Technofashion