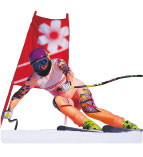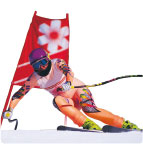 If you're a sports man, you're a print man. You might not realise it, but print is a big deal in sports. Naturally, sportswear come to mind first, but the bigger picture is even more large format than that.
For argument's sake let's consider sportswear as one of the leading printing application technologies in sports today.  Every team, whether it is cycling, running or football, needs to have its own shirt. The sponsor's logo needs to be clearly printed on there and the sign maker is asked to put on a name and number. Okay, so we have the branding issue covered. Now let's talk volume, because every village, town or city has its own football, volleyball, badminton and/or hockey team. And they all need their own shirts, so we're talking big business.
Cycling is the worst, mind you. With so many sponsors looking for logo coverage, you simply have to resort to sublimation technologies. It's cheaper to print than to apply all these logos with flock or solvent textile stickers.  Same principle for running gear, which is being personalised more often than not nowadays. You know I'm not talking about a small amount of one-offs. So printing the whole garment is again more profitable than applying graphics information afterwards. The rise of neon colour use makes it even more difficult to stick to traditional print. (trust us, the Mimaki New Neon dye sublimation colours make it possible to produce these garments digitally.)
Returning to my original statement, there truly is so much more printing going on in the sports worlds. Just consider all the boarding around the fields.  Some years ago (more than I care to remember), all you had to do was slap some vinyl letters on the trespa boarding. But now customers want full colour images on these boards, so applying full colour vinyl or printing directly onto the boards with UV technologies seem more convenient. Besides, the rapidly changing sponsor products and selling markets make these signs obsolete after merely one or two seasons. Reprinting the boards might prove the better update once the term or sponsoring contract is over.
Talking about volatility in sponsoring, let's have a look at the racing market. How about those big fancy motorhome like trucks that need to cross the country and make heads turn? The better the print, the better the visibility for the team and sponsors. Hospitality areas may not be neglected with all the flags (beach/standing) posters, popup banner systems and free giveaway sticker opportunities for the guests of the sponsors. Again – all marketing material that is printed all digitally as it needs to be tailored to each event.
And don't get me started on team merchandizing!  Printed T-shirts, jackets and mugs with the pictures of the team drivers and sponsors on them.  I recently attended a GT3 race in the UK and feasted my eyes on the different prints.  Print as far as the eye could see, I had to look for a spot that was not adorned with print. Who said print was dead? (they're idiots)
The paddock areas actually looked more like a printing show than a garage; I spotted at least 6 different print technologies.  Although vinyl applications are still big, full colour printing, sublimation, UV printing and SUV were used in great abundance.  I was happy to see the Mimaki SUV technology was used for the backdrops in the garage, the full colour prints on the cars and some of the signage on the trucks.  When I asked why they applied SUV and not standard solvent, the reply I got left me speechless. (pause for effect)  Weight!  Normally they would have laminated the full colour prints, but they discovered that with SUV they did not need to laminate, because the gloss of SUV looked like solvent with a gloss laminate.  The result on the car was over a whopping 3 kilo weight reduction. How's that for your USP for SUV?
And did you know that at the last Olympic winter games over 15km of banner was used – all printed in full colour for barriers and out of stadium event areas. Finish and start messaging – printed. Numbers and identification cards for all athletes, coaches and trainers – printed. Signage, advertising, country flags for the media ceremonies – printed. Full colour digital. Print. There will be no escape.
Let me challenge you. Next time you're at a sports event, have a look around and let me know how many print technologies you have spotted. We'll talk it over at the next race.
Let's create together.
Mike Horsten