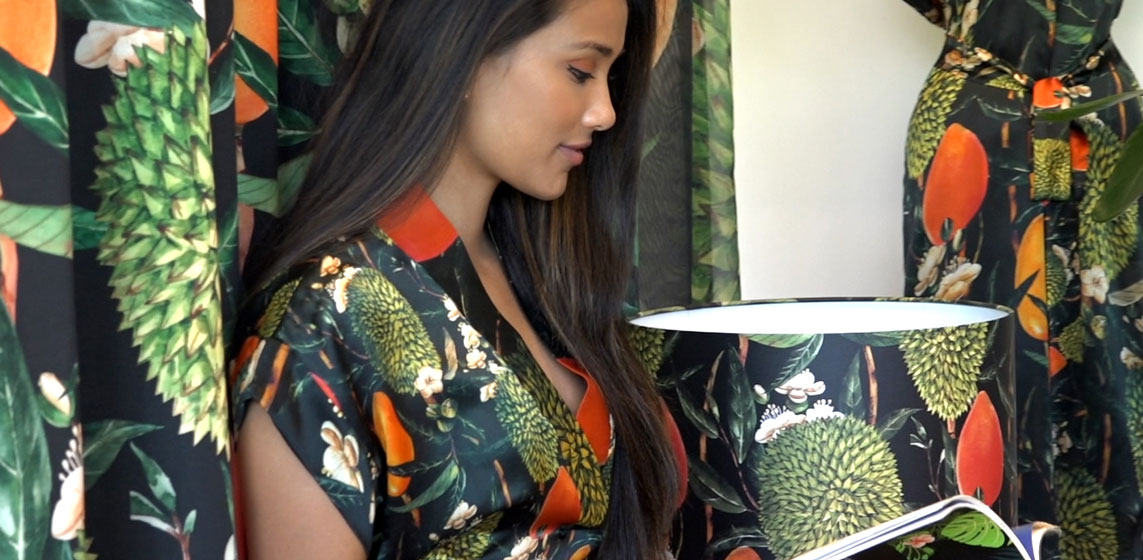 Hear how Mimaki's TS55 technology supports current textile printing industry trends.
The dramatic transformation of the textile production industry that followed the boom of digital textile printing as well as advances in dye-sublimation technology, has opened up new, profitable market segments and application opportunities. In particular, fast fashion, sportswear and home décor have seen significant growth as well as visual and promotional communications. Soft signage for buildings and shop window displays, retail environments and other points of sale have presented a great opportunity for textile printers and print service providers operating in the large format sector.
So what do our textile printing experts and customers think? We asked Marco Vanzini, Sales Director at Mimaki Bompan Textile, and Christian Giardi, owner of personalized textile business, Personal World 38 srl (and a Mimaki TS55-1800 printer), what they think about the technology behind these industry trends.
Why do you think dye-sublimation printing is emerging as a key technology for the textile printing industry?
Marco Vanzini: Dye-sublimation printing technology is ideal to address many of the current needs and trends in the textile printing industry. Not only does the technology offer extreme versatility, but it also enables its users to achieve diverse, tailored, on-demand applications, in variable quantities. Offering top quality, dye-sublimation printing technology allows realistic prints, with photographic definition and vivid, bright colours, to be printed onto fabrics such as polyester, microfibre and elastane, which are currently in high demand.
How do you see the evolution of dye-sublimation printing?
Christian Giardi: I do consider dye-sublimation printing a key technology for both the present and the future of textile and large format printers. Not only is the technology efficient, flexible and cost effective, but even more importantly, it is an eco-friendly one. Using water-based inks, it reduces the environmental impact while making it easy for companies to dispose of exhausted materials.
Mimaki has played a key role in the evolution of digital textile printing. What is the flagship solution in the sublimation space?
Marco Vanzini: The Mimaki TS55-1800 printer has emerged as our flagship technology when it comes to sublimation printing. This advanced dye-sublimation printer is designed to enable industrial-scale production performance and represents a cost-effective solution – with accessible pricing, both in terms of initial investment and running costs – making it ideal for medium-sized companies with large print volumes.
Why should a print service provider invest in a TS55-1800 unit?
Marco Vanzini: We consider the TS55-1800 to be our workhorse. This printer is an attractive option for those companies in the process of replacing old plotters or in search of expanding and diversifying their product portfolio and targeted markets. While price, performance and ease of use make it an appealing and profitable entry level solution, the core technologies the system is equipped with, and the add-ons provided by Mimaki, allow users to update and upgrade it progressively according to production requirements. Offering extreme flexibility, printing companies can design and produce a wide range of applications – we keep receiving numerous customer examples of fantastic and unique products, which we display in our application gallery at the Mimaki Bompan Textile showroom in Tradate.
Why did you opt for a Mimaki TS55-1800, Christian?
Christian Giardi: With the boom of digital printing and the opening of our e-commerce websites, we were experiencing significant growth. Therefore, we were faced with the choice of doubling the printed platforms we were using back then or finding a new, more productive technology. When we came across Mimaki and its TS55-1800, we realised that it could be the solution we were after. And we proved to be right.
What are the key features of the TS55-1800?
Marco Vanzini: As it is the case with all Mimaki's textile printing equipment, I would say that our proprietary core technologies can make the difference. The TS55-1800 is equipped with our NCU (Nozzle Check System) and NRS (Nozzle Recovery System), nozzle control and restoration systems that ensure automatic detection and replacement of clogged nozzles without interrupting production. Added to this is MAPS (Mimaki Advanced Pass system), a system created to prevent banding, which uses a special algorithm at each print pass calculating the most effective way to throw the ink droplets according to colour, coverage and speed. Those core technologies make the TS55-1800 a reliable, robust and efficient machine.
Offering extreme application flexibility, the TS55-1800 is available in four, six or eight colour configurations – with the possibility of adding fluo colours, and a maximum width of 1940mm – and reaches speeds of up to 135sqm/h at a resolution of 480x600dpi.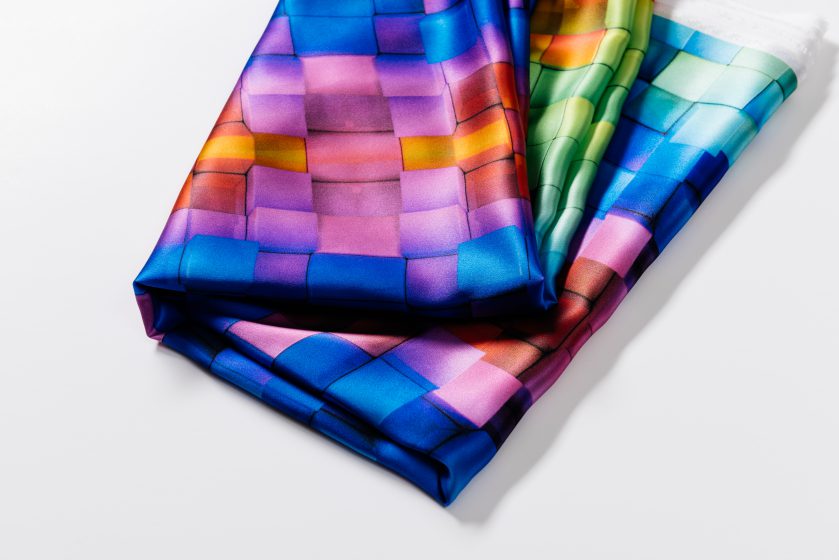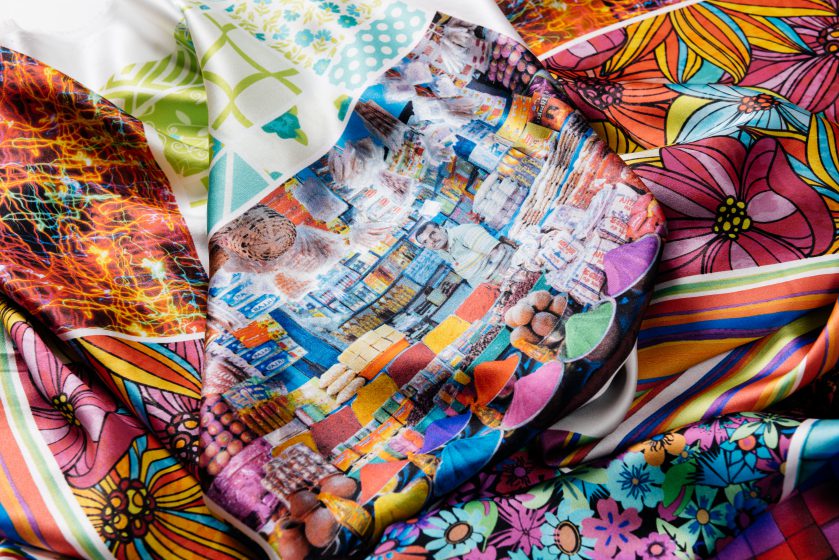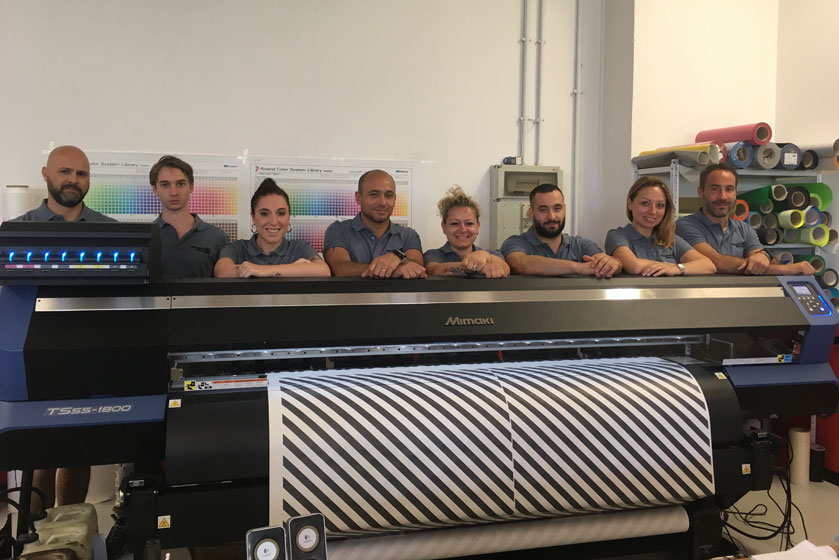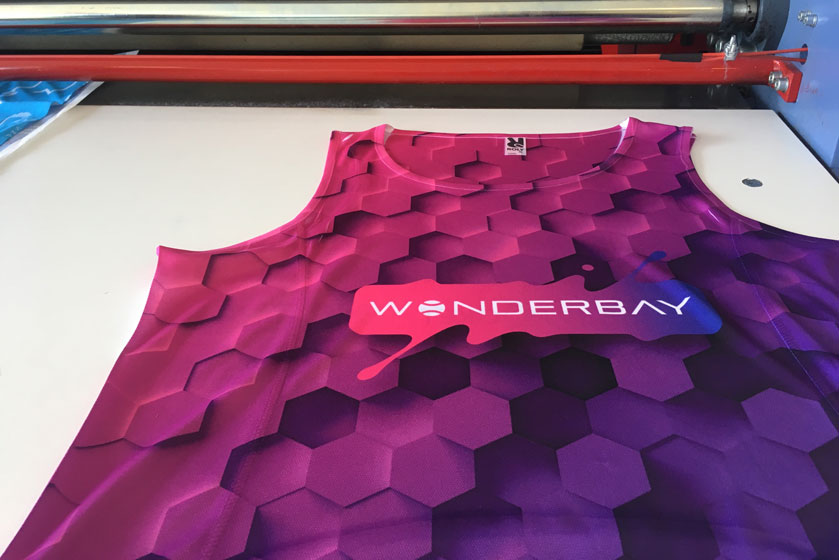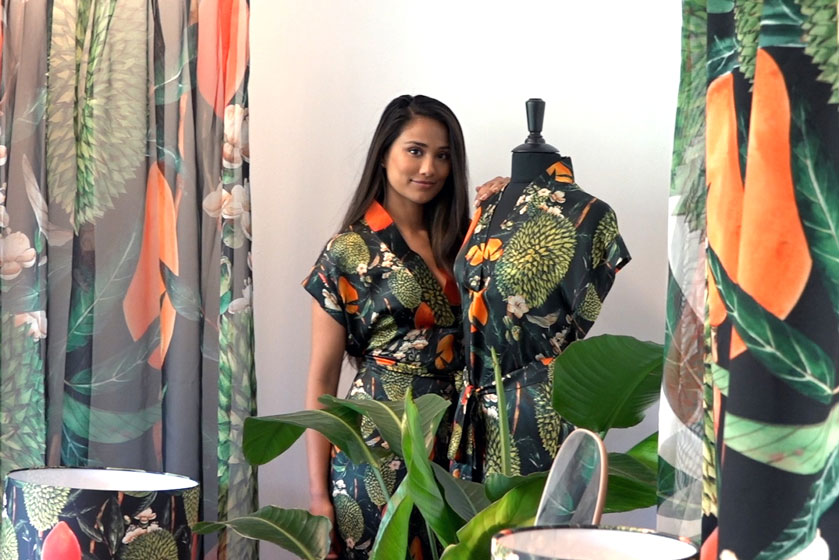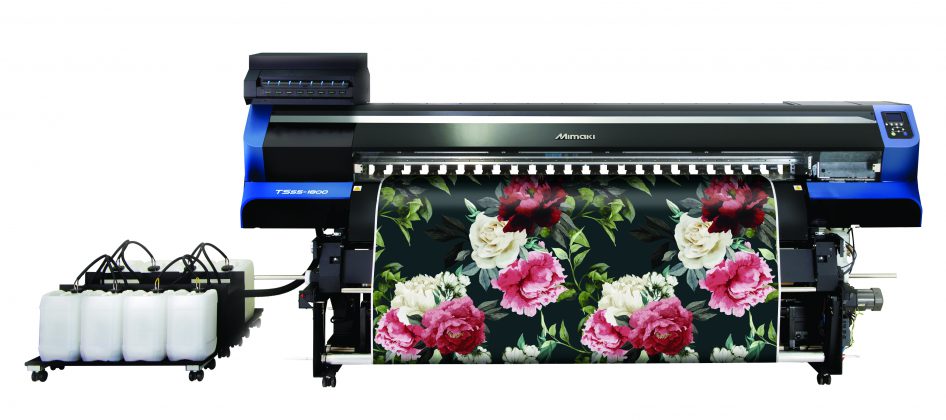 Are there any optional accessories for the TS55-1800 that are worth mentioning?
Marco Vanzini: Yes, there are. The Mini Jumbo Roll unit is capable of supporting 300kg worth of sublimation paper rolls, while the 10kg ink canisters can be used as an alternative to the 2 litre bags included in the standard configuration. This allows for greater operational flexibility, the possibility of extended scheduling or night production, a further reduction in downtime for roll changes, and a reduction in consumable costs.
Christian, one year after installing the TS55-1800, do you consider it a good investment?
Christian Giardi: Yes! We are absolutely satisfied with the TS55-1800, as the printer has fulfilled our expectations. In fact, not only has the printer enabled our company to increase the production volumes, but it has also enhanced our capacity in terms of resolution of printed images. This has enabled us to extend our product portfolio; as in addition to t-shirts and bandanas, we have included personalised mugs or mouse pads, and all kinds of objects with small surfaces requiring extreme image definition and sharp resolution.
What was the impact on your production processes?
Christian Giardi: The TS55-1800 excels in productivity and reliability, while allowing extreme flexibility in production. It can work 24/7, without any interruptions. Once the standard start-up monitoring has been carried out and the machine is found to be printing correctly, we can let it work with no operators. The reliability of the printer combined with the remote monitoring represent a great benefit for our company. Just to give you an example, as a first job ever on the TS55-1800, we had to deliver 10,000 pieces of our bandanas and since we had no previous experience with the printer, we agreed to split the delivery in two. However, in the end we managed to produce and deliver all the 10,000 pieces together, benefitting from significant time and cost savings. This made an impression on our customer too!
Any final thoughts?
Christian Giardi: While dye-sublimation is evolving fast, our Mimaki TS55-1800 enables us to keep pace with the trends and make plans to expand into new, profitable application opportunities. One such example would be technical sportswear, requiring specific technical properties that we can achieve with our printer. Also, we can add value to those applications and stand out from the competition by using Mimaki's fluorescent colours.
About Personal World 38 srl: Based in San Marino, Personal World 38 is a medium-sized company producing personalised clothing and gadgets. Over the years, Personal World 38 has specialised in multifunction tubular bands – currently representing the company's core product – which are sold through four company-owned e-commerce websites. With the production volumes increasing and in demand of higher quality, the company invested in a Mimaki TS55-1800 in 2019.