Mimaki features new technology and a focus on digital textile printing
Amsterdam, December 5, 2016
Mimaki today announced that it will have a significant presence at Heimtextil 2017, scheduled for 10 through 13 January at Messe Frankfurt. Mimaki will be located in Hall 6, Stand D10 at the show, and will also be participating in the Theme Park's Digital Textile Micro Factory. Visitors to the show will also be able to hear Mike Horsten, General Manager Marketing of Mimaki EMEA, speak about how digital printing is going mainstream, bringing significant change to the textile market.
"There is a big change happening in textile printing," Horsten said. "This is being driven by a number of factors, including the advancements in digital textile printers and inks, as well as the demand for shorter runs, faster cycle times and more customised textile-based products for home and fast fashion. Digital textile printing addresses these market requirements and offers a new, greener way to produce outstanding textiles. Those are the topics I will cover during my talk on Wednesday, 11 January from 2:30 to 3:00 PM in the Green Village, Hall 8. Plus, visitors to our stand, and to the Digital Textile Micro Factory, will have the opportunity to see these digital textile printing solutions in action and speak with our experts about how digital textile printing can be incorporated into their businesses for increased flexibility, profitability and environmental sustainability."
Solutions tried, true and new on display at the show
"We are very excited to be bringing a brand new printer to the show, on display for the first time at a global exhibition," Horsten continues. "Following our acquisition of La Meccanica, including their more than 40 years of experience in digital textile printing, Mimaki has launched the Tiger-1800B direct-to-textile printer using reactive inks. We believe attendees will be quite impressed with the capabilities of this industrial-strength digital textile printer."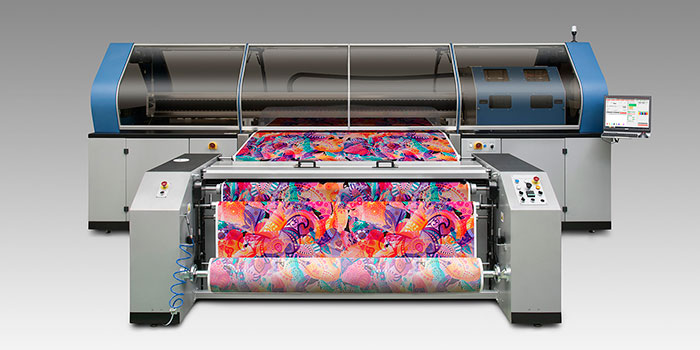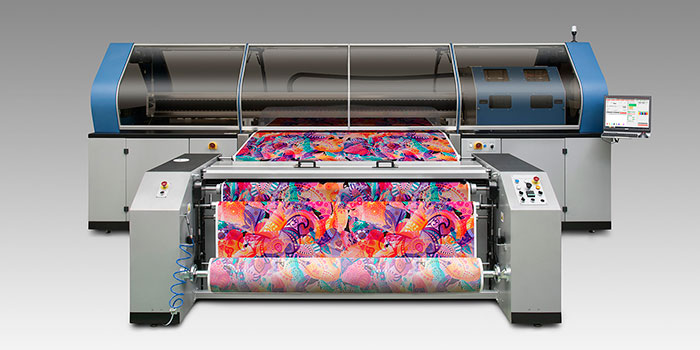 The Tiger-1800B is a no-nonsense digital textile printer that simply does the job – highly productive, high quality textile printing for industrial needs. With its strong frame, stable media transportation mechanism and dedicated print head maintenance system, the Tiger-1800B is unmatched in its class. With a maximum print speed of 385 m2/hour, 600 dpi print resolution and a maximum print width of 1.850 meters, the Tiger-1800B is ideal for high volume digital production that could only be cost-effectively achieved in the past using traditional textile printing technologies. Optional units can be added to expand the printer's capabilities, including feeding units for jumbo rolls or folded fabrics, heating units and a folding arm unit for storing fabric in the box after printing. It is ideal for the production of tapestries, flags, sports apparel, interior fabrics, fast fashion and more.
Also on show in the Mimaki stand will be:
The Tx300P-1800B direct-to-textile printer with pigment inks, a 1.8-meter textile printer for the ultimate results in on demand creation of outstanding textiles. This entry-level model fits perfectly in facilities with limited floor space, such as design studios or schools. It enables printing on a variety of textiles, including thick fabrics and woven patterns or raised fibre surfaces at a maximum print speed of 66 m2/hour.
The Tx500P-3200DS 3.2 meter direct-to-textile sublimation printer suitable for the creation of soft signage or home furnishing products with print resolution of up to 720×1080 dpi. Its simultaneous printing and colour fixation and its maximum print speed of 130 m2/hour reduce production time while delivering superior image quality.
The TS300P-1800, a next-generation 1.8-meter sublimation transfer printer that produces beautiful printing on affordable thin transfer paper. Printing at up to 115 m2/hour, this printer features a cockling-reduction media transfer mechanism and uses Mimaki Sb410 high performance, low cost sublimation transfer inks. During the show, it will be producing applications using fluorescent inks, ideal for sportswear and other products.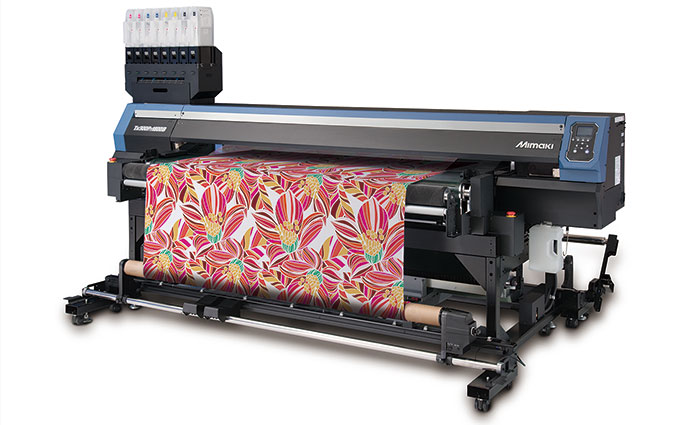 New: The Digital Textile Micro Factory
New at Heimtextil 2017 is the Digital Textile Micro Factory, a live illustration of the entire digital production cycle, from design, digital printing and automated cutting to serial manufacturing integrated into the workflow. "We are very excited to be participating in this unique experience," Horsten reports. "It is an ideal opportunity for visitors to the show to gain a deep understanding of the digital textile printing process and to understand the benefits it brings to textile printing operations of all types and sizes. Our Tx300P-1800 direct-to-textile printer with pigment inks and our TS300P-1800 sublimation transfer printer with fluorescent inks will be featured in this special interactive exhibit." The Digital Textile Micro Factory is located near the Mimaki booth, in Hall 6, Stand B30.



"Digital textile printing is rapidly going mainstream," Horsten concludes. "This will be extremely clear to Heimtextil 2017 visitors, who will be able to quickly understand how they can incorporate digital printing into the mix for their benefit and that of their customers. We are looking forward to a very interactive show and exhilarating discussions with attendees as they explore the future of their businesses."