Who knew that the Dokkumer Vlaggen Centrale (DVC) also created bean bags, beach chairs and display signs? All new applications for which the Frisian company relies on a Mimaki JV300-160, the 'A-list brand' among sublimation printers.
'We're a household name in terms of flags, but we actually create so much more', comments Johan Schaafsma, production manager at DVC. Next to the huge screen printer and the two direct-to-textile high volume printers, the Dokkum based facility also hosts a Mimaki JV300-160 large format printer as of last year (2015). This opened up a new range of opportunities and products. 'We're working on broadening our offer. We now print on bean bags, for instance – they're a hot item right now and contribute substantially to the total turnover. But we also do beach chairs, pillow covers, stools, skirts for garden and party tables, curtains even.'
'We used to outsource the production of these items, but we're a production company and we prefer to insource as much as possible. And as we're increasingly creating this type of advertising material, it only makes sense to have this kind of large format printer on the premises.', Schaafsma comments. 'Besides, this also puts us in charge of quality control. We can now add a lot more detail by matching confection and print.'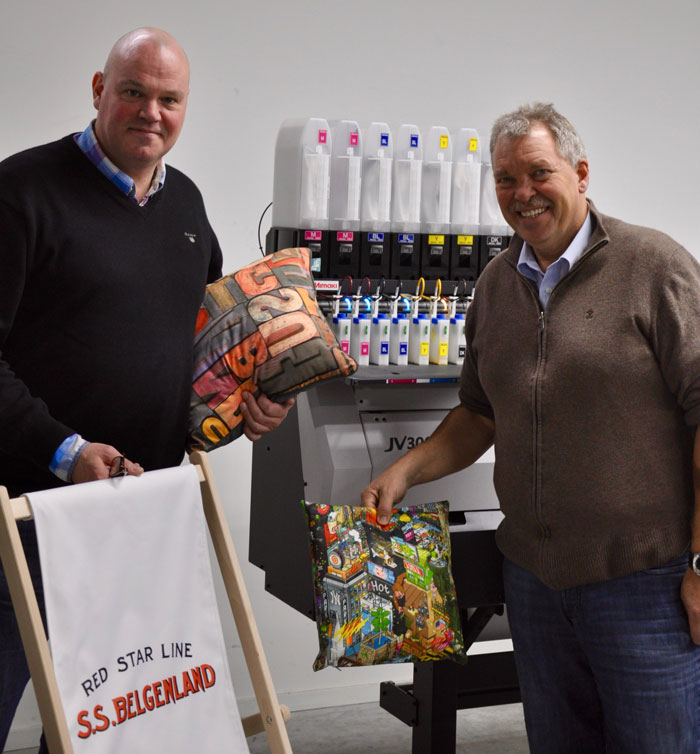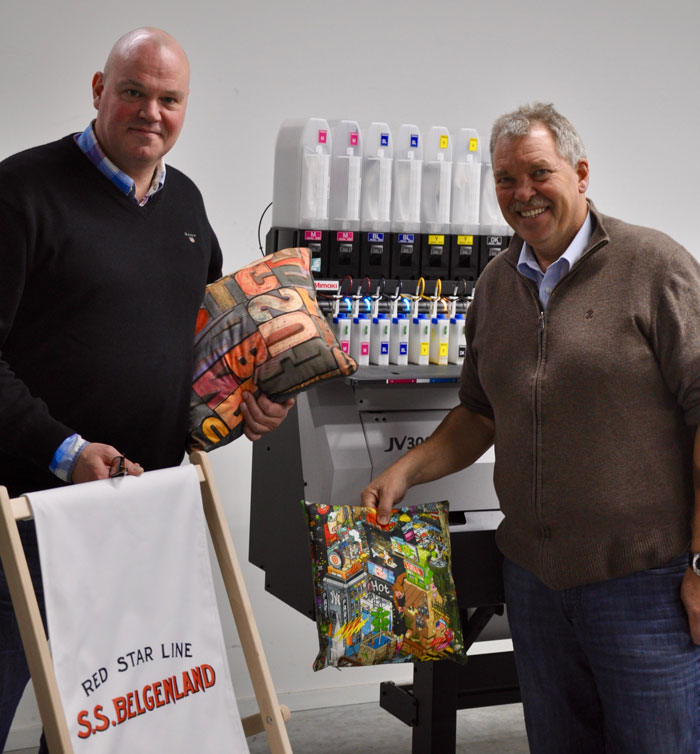 Beautiful polyester print
The Mimaki JV300-160 is a large format printer for professionals in the sign & graphics market. This large format printer with a width up to 1,61cm can print directly on both textile and sublimation paper. 'The big advantage of the Mimaki JV300-160 is that was designed as a transfer sublimation printer.' adds Jacco van 't Riet, the Mimaki distributor at Texo Trade Services (TTS) in Waddinxveen. 'In the past, they often rebuilt large format printers so they could print on sublimation paper, but this printer was built specifically for that purpose. And it shows – the paper runs perfectly smoothly from roll to roll through the printer.'
DVC uses the Mimaki JV300-160 as a sublimation printer to print polyester fabric. Here's how it goes: the printer prints in reverse on the transfer paper. It uses sublimation ink, which explains the dull outcome of the paper when it leaves the printer. But by transferring the printed sublimation paper through a calender, which applies pressure and heat, you get a beautiful polyester print. What happens is that the sublimation ink turns into gas like colour particles when a 190°C heat is applied and these particles get pressed into the fabric. The calender ensures fixation and a powerful colour result. 'The biggest advantage is that the print does not 'lie' on top of the fabric, it's actually embedded into the fibres of the substrate", van 't Riet illustrates.
Colour management knowledge
Why did DVC select the Mimaki JV300-160? Schaafsma: 'The new applications and products often require fabric substrates that are very stretchy. For direct-to-textile prints you cannot work on a substrate that's too stretchy, it will distort your image. Sublimation print offers a perfect solution. And that's where Mimaki is the A-list brand.'
The cooperation between TTS and DVC dates back ten years and has only intensified with the Mimaki JV300-160 installation. Schaafsma: 'It's all about colour management in the end. We needed a supplier that would communicate on our level. And that is TTS.'
'It's true, we know textile. We're specialised in both protective and sublimation transfer paper for any kind of textile application.' van 't Riet completes.
Bigger demand for polyester fabric
The new applications enable DVC to comply with the increasing demand for polyester fabric advertising materials. In the retail environment there's a lot of interest in polyester displays. van 't Riet: 'The beauty of the polyester fabric that we deliver to DVC is that it brings out the colours perfectly, plus it's both waterproof and water-repellent. The coating prevents liquids or dirt from staining the bean bag or pillow.'
'Another advantage in comparison to hardboard or PVC is that you can fold polyester fabric for advertising purposes like light boxes or stretch frames. This does not only simplify transport, but also makes it more environmentally friendly.'
Schaafsma claims the Mimaki JV300-160 large format transfer sublimation printer has enabled printing on demand. 'It stimulates your creativity. Dressing up shops, sports associations, cultural gatherings, any kind of signage you can think of, … we can do one print only or many. A restaurant customer wanted to do something creative with one of their walls. That wall is now covered with one big fabric sign of ours that has the restaurant's menu printed on it. They change it four times every year.'