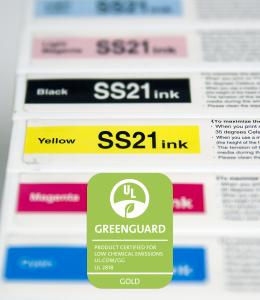 Amsterdam, May 19, 2015
Mimaki proudly announces it has received the GREENGUARD GOLD Certification for market leading inks, such as SS21, LX101, LH-100, LUS-150 and LUS-200.
The GREENGUARD GOLD Certification offers stricter certification criteria and considers safety factors to ensure that a product is acceptable for use in environments such as schools and healthcare facilities. GREENGUARD Certification is part of UL Environment, a business unit of UL (Underwriters Laboratories). As an ISO-IEC Guide 65:1996 accredited, third-party certifying body, the Greenguard Environmental Institute issues the GREENGUARD Certification to help manufacturers create – and help buyers identify – interior products and materials that have low chemical emissions, improving the quality of the air in environments in which the products are used, including schools and healthcare facilities.
The certification standards feature emissions criteria that are required to be met for GREENGUARD Certification. There are also additional verification requirements to be completed before certification can be awarded. After initial certification, there is on-going testing, documentation, and verification processes required for demonstration of consistent product performance.
"In order to comply with the GREENGUARD requirements, company needs to invest in extensive R&D efforts and ongoing commitment to develop the most technologically advanced yet safest inks," comments Mike Horsten, General Manager Marketing EMEA at Mimaki Europe. "The reach of Mimaki products is growing at a phenomenal rate. This certification offers us, our customers and the general public peace of mind and extra assurances that our print solutions can be applied for a wide range of end uses including those in schools and in a healthcare environment."
Mr. Horsten concludes: "This certification follows the achievement of OEKO-TEX® skin contact accreditation and re-affirms our commitment to enabling customers to be proactive and creative in very many different markets, without having to worry about the safety of their inks."