Mimaki talks digital textile and wallpaper solutions at Heimtextil 2015
Amsterdam, December 9, 2014
Mimaki, a leading manufacturer of wide-format inkjet printers, will showcase its textile printing expertise at Heimtextil 2015. The international trade fair for home and contract textiles takes place at Messe Frankfurt, Germany from January 14 to 17, 2015, and Mimaki will demonstrate its market-leading solutions for these industries on stand G15 in Hall 4.0.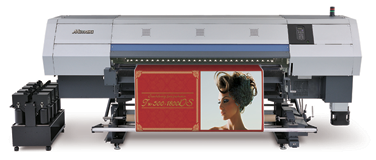 "Digitally printed textile quality has come a technologically long way and is increasingly attractive due to the ability to cost-effectively produce samples, short run and custom textiles. Key retailers are using digitally printed textiles to differentiate themselves with some very eye-catching limited edition pieces," explains Mike Horsten, General Manager Marketing EMEA at Mimaki Europe.
"These headline grabbers are very much the tip of iceberg as far as the market opportunities that digital print technology opens up for designers throughout the industry," Horsten continues. "We are on the cusp of a sea change, and Mimaki solutions are ready to meet today's needs as well as adapt to new requirements as they arise. At Heimtextil, we again push the boundaries of innovation and creativity with a broad portfolio of solutions for high quality digital printing of textiles. We're ready for the future!"
Mimaki is Gold Sponsor of the European Digital Textile Conference where Horsten will discuss "Why the home textile sector will switch to digital" on Thursday, January 15, in Hall 4.0 at 12:25 pm.
Horsten comments, "The home textile sector is just one of many of the expanding creative and commercial opportunities offered by digital printing. I look forward to discussing the opportunities with attendees along with ways that operations can ensure that they are at the forefront of this dynamically changing sector."
Mimaki will demonstrate a number of solutions dedicated to textile production, ranging from the Mimaki TS500-1800 which is ideal for furnishing fabrics as well as sportswear, T-shirts and apparel, to the Mimaki TX500-1800DS that can print on cotton, polyester-based materials, and other fabrics. The JV300-160 dye sublimation printer is suitable for everything from garment marketing to fashion, And the JV400-160LX delivers high-quality latex print for wallpaper applications with six-color printing, including orange and green, for a broad color gamut.
Horsten concludes, "Textile is one of the markets we are most at home in. We have solutions from entry level to high volume that cater to a variety of applications from short runs to high volumes, ensuring that, whatever the market demand, we can help our customers be highly flexible and responsive. There is good reason why our theme is Let's Create… Together."
Journalists who wish to schedule a meeting or stand tour with Mike Horsten, can contact Maya Staels at duomedia via maya.s@duomedia.com or via mobile number 0032 487 98 21 61.